Plan A Gift
Donor Stories
Wanda Bissell
Member of The Guardian Society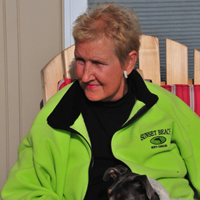 After overcoming her personal battle with leukemia, Wanda Bissell wanted to help young people suffering with this awful illness. Her unique way of giving back was to gather items from the patient "Wish List" and deliver these gifts to the patients at Children's National as a birthday tradition. Later, Miss Bissell wanted to make a lasting difference and decided to name Children's National in her will to support the Center for Cancer and Blood Disorders.
Read Miss Bissell's story in her own words in The Guardian Spring 2014.
Miss Bissell created her legacy by providing for healthy children in her estate plan. What will your legacy be? Contact us to learn more.