Plan A Gift
Donor Stories
Shari & Wayne Sternberger
Members of The Guardian Society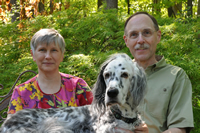 "We took a tour of Children's National to better understand the operations and culture. Then, we began attending events to learn more about the hospital's impact on the community. When we walked through Children's National on a tour in 2009, it felt like a place where the whole family is cared for. Over time, we became more familiar with the work and employees. When we were ready to discuss our plans for the future, Children's National was there; I never once felt rushed. As part of our overall retirement planning, we set up a deferred charitable gift annuity with Children's National that will provide income to us in retirement for the rest of our lives. The remainder will support the hospital in their passion to help children live healthy lives."
Read Shari and Wayne's full story in The Guardian Fall 2013.
Shari & Wayne Sternberger have created their legacy by providing for healthy children in their estate plans. What will your legacy be? Contact us to learn more.