Plan A Gift
Donor Stories
Barbara Fisher
Member of The Guardian Society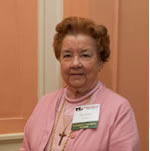 "After graduating from high school, I moved to Washington, DC, to work for the government. I learned about Children's National when I took a tour of the hospital in the 1950s. It was then that I included the hospital in my will and it's still in my will today. A couple of my friends took their babies to Children's National and could not say enough good things about the wonderful care they received. That's when I began donating to the hospital annually.
My decision to support Children's National now and in the future was reaffirmed when I took a recent tour of its state-of-the-art facilities. Although my estate gift will be small, it pleases me to know that the remainder of my money will go to a good cause."
Barbara Fisher has created her legacy by providing for healthy children in her estate plans. What will your legacy be? Contact us to learn more.