Plan A Gift
Donor Stories
Jane Donaghy *
Member of The Guardian Society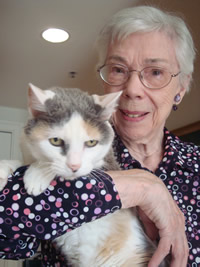 While Mrs. Donaghy no longer skydives (her last jump was at age 92!), she knows the importance of having an updated estate plan in place. She also knows that we have a lot of needs in our country that aren't being met. To help meet some of these needs, Mrs. Donaghy supports a number of charities, but perhaps closest to her heart are those that serve children. In the 1940s, Mrs. Donaghy learned about the important programs and services at Children's National. Since then, she's become an annual supporter, named Children's National in her will and created a charitable gift annuity to help us provide excellent care for our patients and families every day.
Read Mrs. Donaghy's full story in The Guardian Spring 2010.
Mrs. Donaghy created her legacy by providing for healthy children in her estate plan. What will your legacy be? Contact us to learn more.